Second US Passport Eligibility Requirements
For individuals 16 years of age and older who:
You have your most recent undamaged 10-year US passport.
Your recent passport was issued in your current name.
Your most recent passport was issued when you were 16 years old or older.
IMPORTANT: If your passport is damaged or mutilated, you must follow New Passport application procedures.
I. Second U.S. Passport
Must be a 10-year passport book good for at least six months or more. The passport must be in good shape and can never have been reported lost or stolen. Please let us know if you have a legal name change.
II. Photo Requirements
One passport photo adherent to U.S. Passport Photo Regulations (2×2 with white background)
Click here for Photo Requirements Eyeglasses are not allowed.
Please read the Photo Requirements as Rejected photos are the top reason for Passports being delayed.
III. Passport Application Form
Complete One (1) DS-82.
This form must be completed online, generating a required 2-D barcode on the top left margin, and printed on two pages (not double sided), and signed by the applicant. The passport office will not accept hand-written DS-82 applications.
Completed online and printed with a required 2-D barcode on top left margin. Applicant must sign the DS-82 with original signature. See example below. Instructions pages may be discarded.
Example of 2D Barcode on Form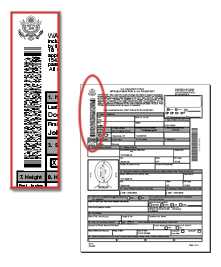 IMPORTANT: Match the departure date on the DS-82 with the departure date on the travel itinerary or travel evidence.
IV. Authorization Letter
Complete one (1) Letters of Authorization with original signatures.
IMPORTANT: The Letter of Authorization (LOA) must be filled out and signed by the applicant and in black ink. The courier company name is required by the government and should be printed or written in black pen on the line above where you sign your name.
V. Second Passport Letter
SECOND PASSPORT LETTER: You must supply a signed letter stating why a Second U.S. Passport is needed. (Sample Attached)
A Second Passport is valid for four years
VI. Proof of Departure
Computer-generated flight itinerary from the airline or a travel agency, copy of airline ticket, or a corporate letter for business travel. Proof of departure must be within 2 weeks unless you need a visa and then proof of departure can be within 4 weeks.
VII. US Government Fees
Adults: $209.53 payment to the US Department of State - either a Bank Check or a Money Order Print the name and the birthdate of the applicant on the Memo Line of the Money Order or Bank Check No Personal Checks. The $209.53 payment includes return Priority Mail to the address on your application and into your mailbox with Overnight Shipping and Tracking.
Please Note: 2-5 Days Urgent Service customers processed in San Francisco can only write a $190 Personal Check - to the US Department of State - if their $190 check has their name and birthdate printed on the check and it matches their name on the application. Otherwise, you can only use a US Postal Money Order for $190 to the US Department of State. Print name and birthdate on the Check or Money Order. Passports in San Francisco are picked up at Will Call and shipped back with FedEx for $50.00.
VIII. Call to Reserve a Courier, make Payment, and receive the Shipping Address
Call (800) 238­-6662 to Reserve your Courier Appointment at the Passport Agency for your Application.
Payment To Legal Passport by credit/debit card only.
Please provide your credit card to reserve a courier time slot with the US Passport Agency – this is non­refundable, the Passport Agency has limited reservations. Payment is required to secure your reservation. This will guarantee your reservation with the US Passport Agency and expedited service. Note: The US Passport Agency determines eligibility to receive a passport based on proof of citizenship and compliance with the instructions provided.
How fast do you need your US Passport?
Urgent: 2 - 5 Days + Shipping Time $720
Rush: 6 - 20 Days + Shipping Time $620
Processing and Shipping Times are based on Business Days.
State Department and Government fees are not included.
IX. FedEx Ship your Renewal Materials to the Passport Courier
Final checklist of what you need to Overnight FedEx:
Passport.
Two Passport Photos.
Signed and Completed DS-82 with bar code on top left margin.
Travel Evidence.
Second Passport Letter
Bank Cashier's Check or Money Order. $209.53 made out to the US Department of State – print your name and birth date on the Bank Cashier's Check or Money Order.
Letter of Authorization – signed with Legal Passport written above your
signature on the line that says 'enter courier company name.
Signed Copy of the Legal Passport Refund Policy
IMPORTANT: Note: Please use the properly sized FedEx envelope, or FedEx box, to Safely and Securely Ship your documents
Call (800) 238-­6662 for the shipping address to Legal Passport courier and for shipping instructions for FedEx. DO NOT USE USPS or UPS.
You are required to report the tracking number when you ship.